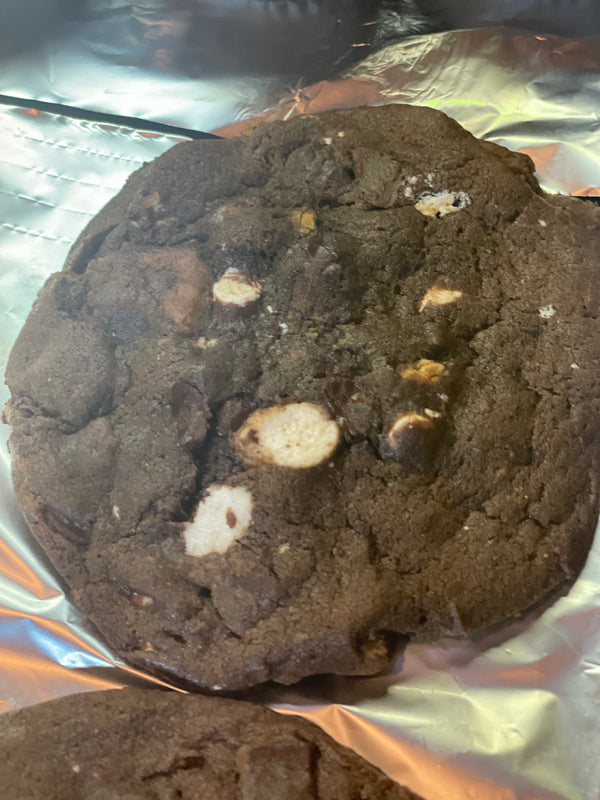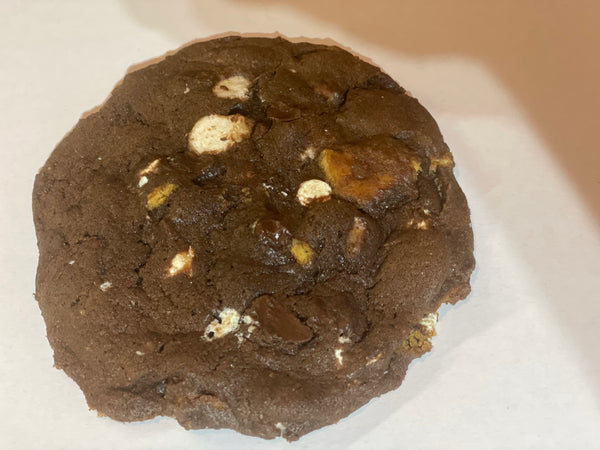 Half Dozen S'mores Cookies
S'mores cookies are a delightful twist on the classic campfire treat, combining the flavors of graham crackers, gooey marshmallows, and rich chocolate in a soft and chewy cookie form. These delectable treats capture all the elements that make s'mores so irresistible, but in a convenient and portable package.
The base of s'mores cookies is typically a buttery and sweet cookie dough, often infused with hints of vanilla or cinnamon to enhance the overall flavor profile. The dough is then generously studded with chunks of milk chocolate or semi-sweet chocolate, adding a luscious and melty component to every bite.
To truly capture the essence of s'mores, these cookies also feature mini marshmallows that become beautifully toasted and caramelized during baking. As the cookies bake in the oven, the marshmallows transform into golden pockets of gooey deliciousness, reminiscent of the roasted marshmallows found in traditional s'mores.
To complete the s'mores experience, graham cracker crumbs are often incorporated into the cookie dough or sprinkled on top, providing a delightful crunch and a subtle nutty flavor that perfectly complements the chocolate and marshmallow.
The result is a heavenly treat that brings together the nostalgic flavors of a campfire favorite into a delightful cookie. Each bite is a harmonious blend of sweet, chocolatey, and slightly smoky notes, with a satisfying chewiness and a satisfyingly crispy exterior.
S'mores cookies are perfect for any occasion, whether you're indulging in a cozy night at home, hosting a summer barbecue, or looking for a crowd-pleasing dessert for a potluck. These cookies are guaranteed to evoke fond memories of roasting marshmallows around a campfire, and they are sure to be a hit with both kids and adults alike.
So gather around, grab a glass of milk or a mug of hot chocolate, and treat yourself to the irresistible charm of s'mores cookies.