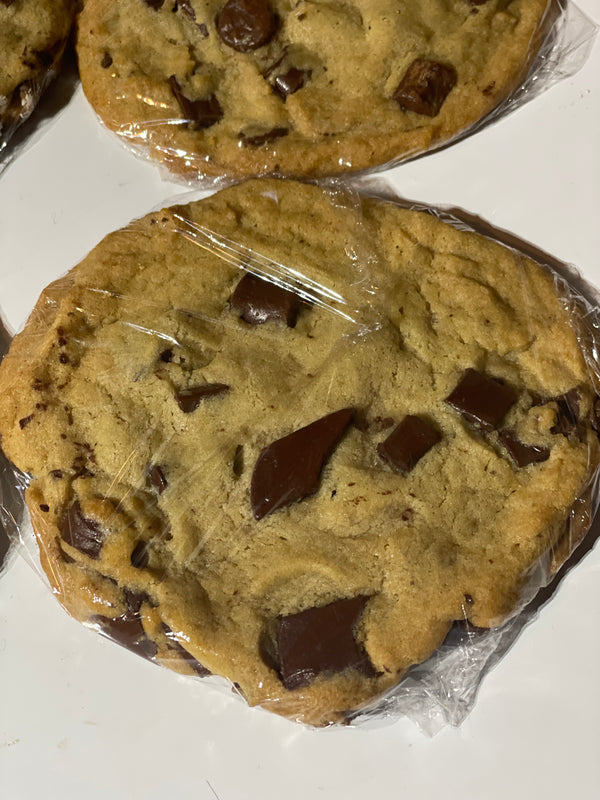 Jumbo Chocolate Chunk Cookie
Indulge in the ultimate treat with a jumbo chocolate chunk cookie that promises to satisfy your sweet cravings. This delectable creation is a true delight for chocolate lovers, boasting an irresistible combination of rich, buttery goodness and generous chunks of velvety chocolate.
As you take in the sight of this cookie, you'll immediately notice its impressive size. Baked to perfection, it boasts a golden-brown exterior that hints at the soft and chewy texture hidden within. The cookie's surface is adorned with cracks and crevices, adding to its rustic charm and providing glimpses of the decadent chocolate that lies beneath.
Breaking into this jumbo cookie reveals a soft, moist interior that practically melts in your mouth. Each bite is an explosion of flavors and textures. The dough, prepared with precision, strikes the ideal balance between sweet and buttery, providing a base that complements the star of the show – the chocolate chunks.
Within the cookie's tender embrace, you'll discover generous chunks of high-quality chocolate scattered throughout. These chocolate morsels are masterfully selected to deliver a symphony of flavors. With each bite, you may encounter a delightful blend of dark, milk, and white chocolate, creating a harmonious medley that lingers on your taste buds.
As you savor the jumbo chocolate chunk cookie, the aroma of freshly baked goodness fills the air, tempting all those nearby. The sweet scent of caramelized sugar and warm chocolate wafts delicately, creating an almost hypnotic allure.
Whether enjoyed on its own or paired with a glass of milk or a scoop of vanilla ice cream, this jumbo chocolate chunk cookie is an indulgence that brings pure joy. The combination of its generous size, delightful texture, and heavenly chocolate chunks will leave you craving for more. Prepare to lose yourself in a realm of sweet satisfaction with every bite of this irresistible treat.