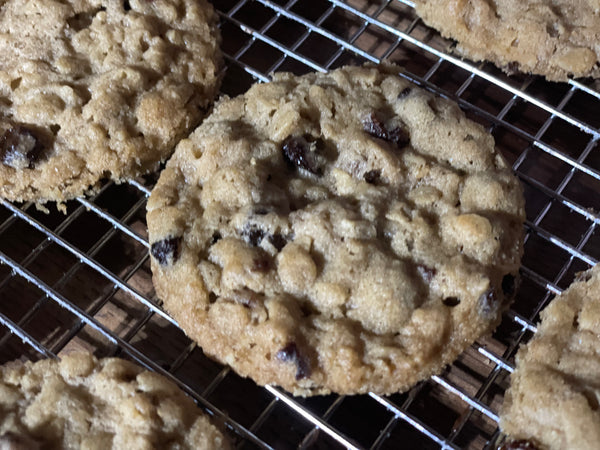 Oatmeal Raisin
 Get ready to fall in love with our delicious Oatmeal Raisin Cookies! Made with wholesome rolled oats, plump raisins, and a touch of cinnamon, these cookies are a classic favorite that everyone will enjoy.
Our Oatmeal Raisin Cookies have a perfect balance of sweetness and texture. The soft, chewy center is complemented by the slightly crispy edges, making every bite a delightful experience. These cookies are baked fresh daily, and are perfect for a mid-day snack or as a comforting treat before bedtime.
Made with only the finest ingredients, including real butter and fresh eggs, our Oatmeal Raisin Cookies are sure to satisfy any sweet tooth. They're also a great source of fiber and a healthier alternative to traditional cookies, making them a guilt-free indulgence.
Order a batch for yourself or as a gift for a friend, and experience the comforting warmth of our delicious Oatmeal Raisin Cookies. They're the perfect treat for any occasion, and are sure to become a new favorite in your cookie jar. So go ahead and treat yourself today!